I'm linking up with
Shannon from Life After I Dew
again for So What Wednesday!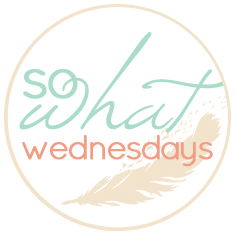 So what!
if I'm bombarding Instagram with fitness posts. I feel good about my progress! And maaaaybe it will inspire someone else to work hard.
So what!
if that was kind of a lie. I like posting my fitness stuff, but I felt like it could really annoy people. So today, after seeing that my sister in law, Sara, started a separate, fitness-related IG account, I followed suit. If you want to keep up with more than my weekly fitness posts here, follow my fitness account: @fitgosam!
So what!
if I took a picture of myself drinking Starbucks in the bathroom after getting a haircut. I wasn't pooping or anything.
So what!
if I made Jamie pose like I was taking a picture of him so I could document this evidence of time travel. This man is clearly from the 90's.
So what!
if this photo is irrelevant to this post. Look how cute Chuck is!
SO WHAT.