I'm Copy Cat Closet-ing again! This is where I get a style challenge sent to me via email, then I put my version on the internet and link up with
Ma Nouvelle Mode
and
The Grant Life
.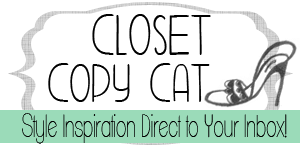 The challenge this week was stripes. I was pleased with this since my favorite thing in my wardrobe right now is striped and I just happen to already have a crappy
Instagram
photo of myself wearing it. This saves me from spending time getting all dressed and presentable just to
stand on the bed and take photos of myself
to be followed only by NOT having anywhere to go for the rest of the day.
OH GREAT. Guess what I just realized? If you're here on the reg, then
you've already seen this
. Eff it. If you have, pretend you haven't.
Stripes.
YES I took this in the airport bathroom on my way to Ohio two and a half weeks ago. What of it? This was actually a pretty comfortable travel outfit. So much so that I wore it again on my way home this past Sunday.
The sweater is light and
holy in the manner that it has holes in it
so it's not too hot, but is warm when layered. The jacket is one that even Goldilocks would love. Just right in warmth, duh. For traveling, it's not too heavy. I never even had to take it off. The scarf is also an important piece to regulate a comfortable body temperature. Too hot? Take off the jacket and scarf. Too cold now? Just put the scarf back on. Arms cold but neck is hot? You get it...
The pants are corduroy and while very fitted in the legs, the material is stretchy. These pants are comfier* than any pair of jeans I've ever worn, so they were perfect for sitting on a plane for hours on end. My boots were a good choice as well. With a zipper all the way down the back, they were easy to get off and back on while going through security.
Anyway, this is one of my favorite outfits. When I first had the striped jacket and red pants, I was a little intimidated by the thought of wearing them together. I thought it would be too much to have two trendy things in one outfit... but then I said f'kit. I'm sorry to all of my real life friends that have to see me wear this jacket constantly and this outfit every other day.
So there.